Obama Admin is in a Panic! Transcripts Potentially Reveal Up To Seventeen Applications to Spy on the Trump Campaign!
Opinion | Attorney General William Barr appeared before Congress on Wednesday where he explained why the DOJ is looking into the FBI's handling of the Trump-Russia probe.
AG William Barr on why the DOJ is reviewing the FBI's Trump-Russia probe: "I think spying on a political campaign is a big deal." pic.twitter.com/tHVcF1dGd4

— Josh Caplan (@joshdcaplan) April 10, 2019
Democrat Congresswoman Jeanne Shaheen questioned Barr about why he felt the need to look into Mueller's Trump-Russia probe.
She said,"can you share with us why you feel the need to do that?"
A.G. Barr replied, "well, for the same reason we're concerned about foreign influence in elections… spying on a political campaign is a big deal."
"The generation that I grew up in, which was the Vietnam War, a period where people were concerned about spying on anti-war people and so forth by the government. And there were a lot of rules put in place to make sure that there was adequate basis before our law enforcement agencies get involved in political surveillance," Barr continued. 
"I'm not suggesting those rules were violated but I think it's important to look at that. I'm not talking about the FBI necessarily but intelligence agencies more broadly," He concluded. 
If Barr finds illegal spying on Trump's presidential campaign, major heads are going to roll. No one cared about pursuing the evidence of spying on a political campaign until Barr showed up willing to risk a monumental fall out.
Former FBI General Counsel James Baker's questioning by House members gives us some insight into what went on within the FBI while they were trying to get that infamous FISA warrant.
The transcript of Baker's questioning was released right before William Barr testified before Congress on Wednesday April 10th.
Today, the transcript of James Baker's second interview with @JudiciaryGOP is now available to the American public. To read the full transcript, visit https://t.co/cI0L4k8Laj. pic.twitter.com/5WubQUlcez

— Rep. Doug Collins (@RepDougCollins) April 10, 2019
Baker's testimony confirms that FBI officials were working hard to get that FISA warrant on Trump's campaign despite their lack of evidence.

It's not so much as what Baker said in his testimony, rather, it's what he refused to say.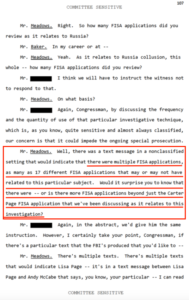 Baker's counsel then asked for more information on the text messages that were mentioned and Rep. Meadows happily obliged.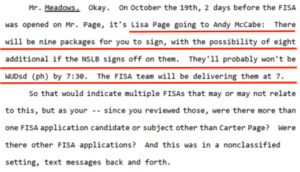 It looks as though there could be up to 17 FISA applications that were under consideration and Baker's refusal to answer the question gives some credibility to Meadow's assumption.
If there were no additional applications seeking FISA warrants against President Trump's 2016 campaign, Baker would have been able to answer with a simple "no."
Attorney General Barr just might be onto the biggest criminal conspiracy we have seen in our history of politics!
AG William Barr says he believes "there was spying" on the 2016 Trump campaign. pic.twitter.com/mpEwQY5x4i

— Josh Caplan (@joshdcaplan) April 10, 2019