This is a serious question, hopefully the answer is not a deadly one.
Of all the industries in the world, I think commercial airline travel is at the top of the list.  When I get on a plane I have one primary concern: NOT DYING.  I could not care less if the pilot was a white male, a black female or a purple penguin, all I care about is if they can get me from point A to point B without dying.
I think Amiri King's Twitter response to United Airlines tweet announcing their most important traits for pilots would be race and gender going forward was spot on: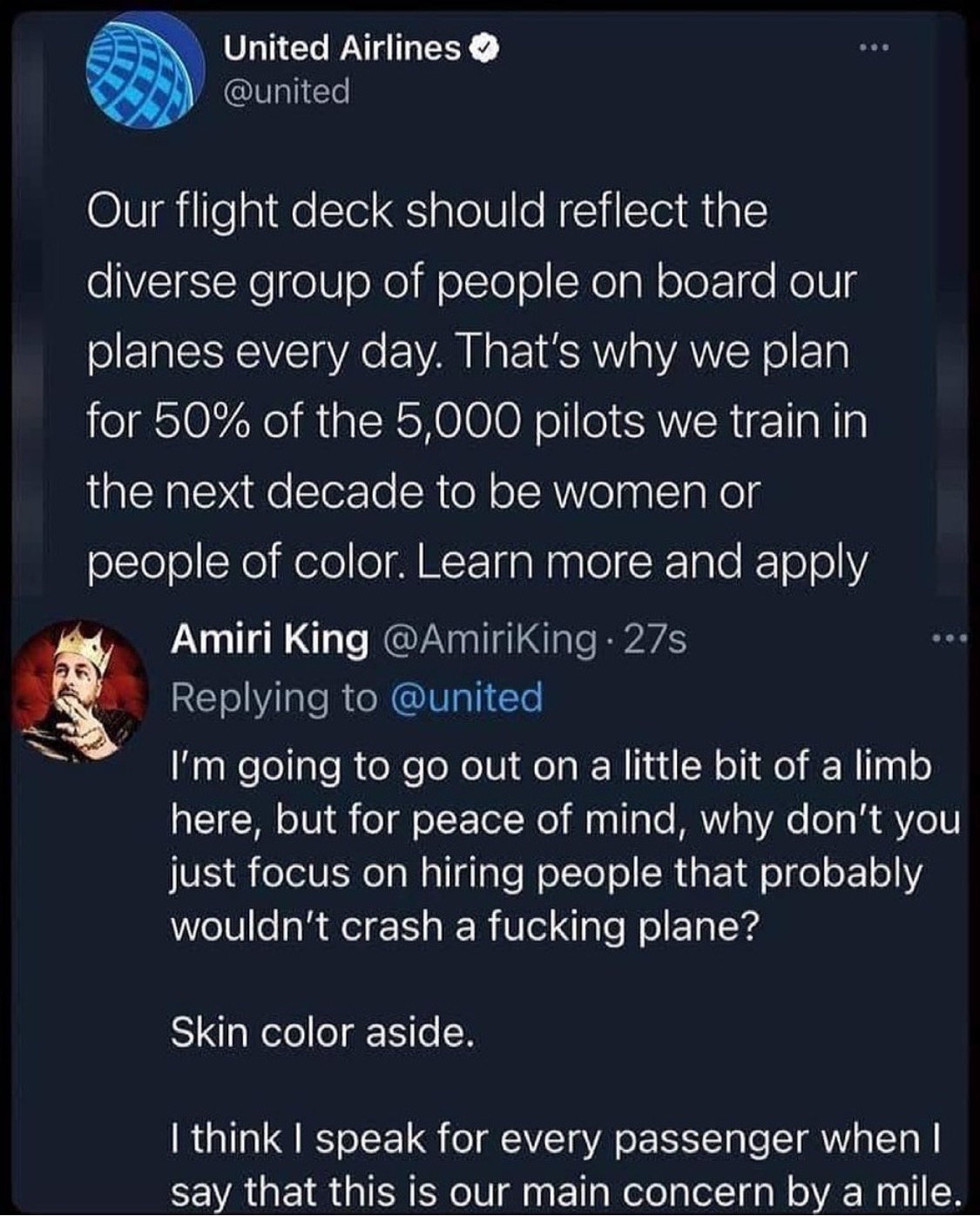 'I'm just going to go out on a little bit of a limb here, but for peace of mind, why don't you just focus on hiring people that probably wouldn't crash a f***ing plane?
Skin color aside.
I think I speak for every passenger when I say that this is out main concern by a mile.'
EXACTLY!
The Gateway Pundit reported:
"United Airlines took their wokeness to the next level this week after condemning Georgia's new voter integrity laws.
United happily announced it will train thousands of new pilots based on race.
"Our flight deck should reflect the diverse group of people on board our planes every day. That's why we plan for 50% of the 5,000 pilots we train in the next decade to be women or people of color," United announced on Tuesday.
United says "diversity is at the forefront" of its pilot program:
Today, United has one of the most diverse pilot populations of any U.S. carrier with nearly 20% of our pilot group made up of women and people of color. We are working toward raising that number even higher by partnering with diversity-led organizations and continuing to remove gender and racial barriers. And we're going one step further with plans for 50% of United Aviate Academy students being women and people of color to ensure our students reflect the diversity of the customers and communities we serve.'
Our flight deck should reflect the diverse group of people on board our planes every day. That's why we plan for 50% of the 5,000 pilots we train in the next decade to be women or people of color. Learn more and apply now: https://t.co/VbOFvFOksB pic.twitter.com/r0ScH6MQAJ

— United Airlines (@united) April 6, 2021