Syndication Via National File| PATRICK HOWLEY|
Accused human trafficker Ghislaine Maxwell wrote four articles for the Huffington Postfollowing her companion Jeffrey Epstein's first conviction on pedophilia charges, and now HuffPost is trying to distance itself from its former contributor.
Ghislaine Maxwell's HuffPost contributor page shows that she published four articles for the blog: "Tide Is Turning for Ocean Conservation" on June 19, 2014, "New Year, Old Challenges…For Climate Change" on January 4, 2015, "The New 'Bait and Switch' on Seafood" on April 1, 2015, and "When the Oceans Failed" on July 30, 2015. Maxwell was photographed alongside Huffington Post founder Arianna Huffington at a Time 100 gala.
Maxwell's bio for the HuffPost website read: "Ghislaine Maxwell is founder and director of The TerraMar Project, an ocean conservation nonprofit. She holds a BA-MA from Oxford University, and is a helicopter and deep worker submersible pilot, and a certified EMT."
Ghislaine Maxwell's contributor page and her articles are now marked with notes posted on July 3, 2020 distancing the publication from Maxwell. The note on Maxwell's HuffPost contributor page reads, "Editor's Note: Maxwell published four articles to HuffPost's now-defunct blog between 2014 and 2015. Maxwell, like all contributors to the blog platform, received no compensation for these articles, and she has no association or relationship with HuffPost. HuffPost is preserving these articles on the site as part of the public record."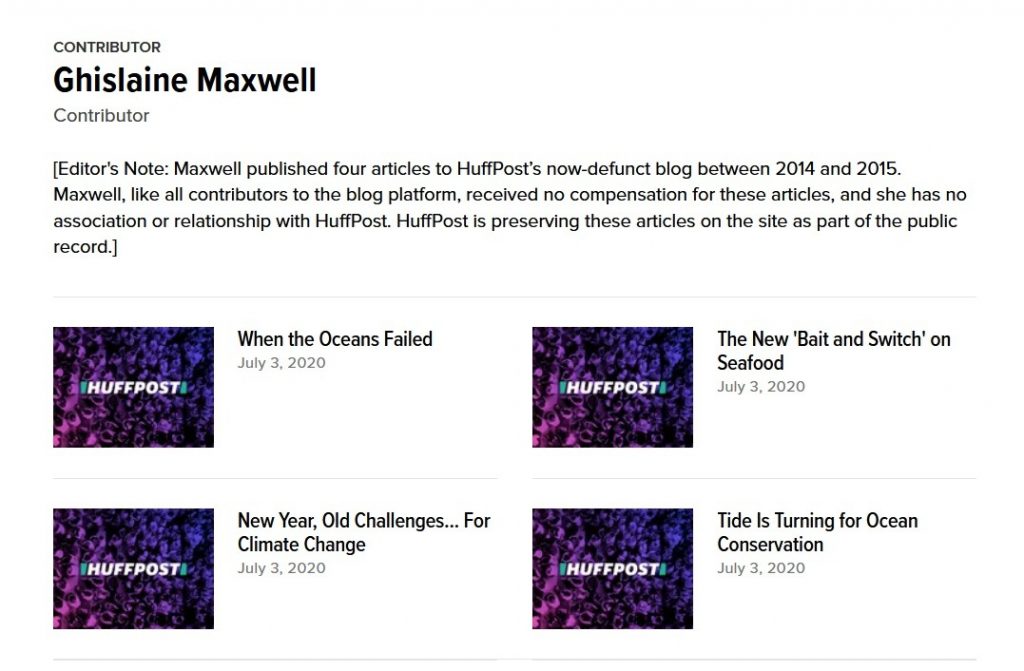 At least two of accused human trafficker Ghislaine Maxwell's nephews worked in the Barack Obama administration, NATIONAL FILE has learned. One Maxwell nephew worked as a top official in Hillary Clinton's State Department overseeing the Middle East while another nephew worked directly in the Obama-Biden White House as well as for the Clinton Foundation. Ghislaine Maxwell awaits trial on child sex trafficking and perjury charges stemming from her activities with her companion Jeffrey Epstein, the late pedophile.
Ghislaine Maxwell's sister Christine Maxwell and her husband Roger Malina had three children, including Xavier Maxwell Malina, born in 1988. Xavier Malina was part of the Tufts University class of 2010. The Tufts website listed his hometowns as Oakland, California and Aix-en-Provence, France (his mother Christine is the owner of French property).
Xavier Malina worked on the Barack Obama-Joe Biden 2008 presidential campaign and then served in the Obama White House. Xavier Malina's TechCamp bio states: "Prior to joining Nest Labs, Xavier worked at a number of organizations from both the public and private sectors including the White House, the Carnegie Endowment for International Peace, Akamai inc. and Barack Obama's 2008 presidential campaign." Xavier Malina's LinkedIn profile previously identified him as an "Obama White House alum." Malina did a project at UC Berkeley, where he was a grad student, on the 2008 Obama campaign volunteer operation. Malina previously listed "Obama White House Alum" on his Twitter bio but has since scrubbed that credit.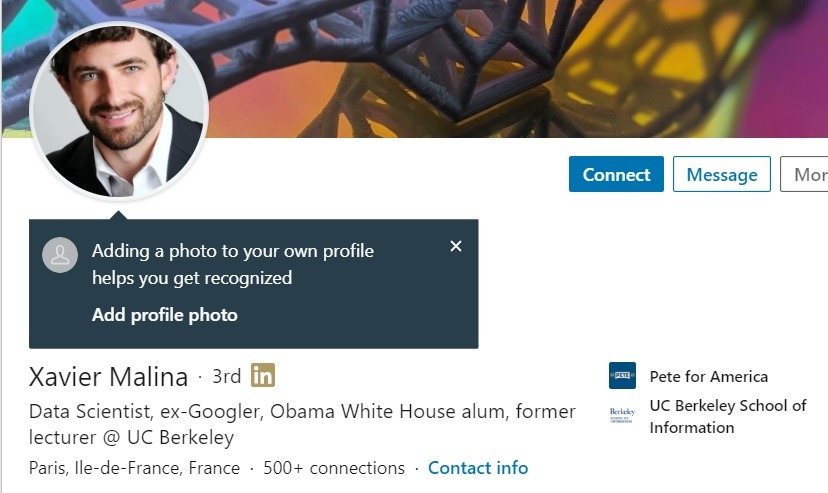 Xavier Maxwell's Signal Hire page includes credits as "Staff Assistant, Associate, Office of White House Personnel at Executive Office of the President" and an internship at Executive Office of the President, plus jobs at Google, the Carnegie Endowment for International Peace and as a field organizer for Obama for America, and an internship at the Clinton Global Initiative and a Clinton Foundation Liaison role at GlobalSolver Foundation. READ THE REST AT NATIONAL FILE HERE