ICYMI This broke while back but the media buried it … and illegals have been flooding into America at unprecedented rates everyday since this story first broke and we first laid our eyes on those oh so convent t-shirts.
Seeing as nothing has been done to get this, Biden admin described, 'CRISIS' under control since this leak showing they were well aware of the state of this problem, we thought it was important to revisit it so you can see 'what they knew and when they knew it' …
What's the definition of insanity again?  Oh, yes, doing the same thing over and over again and expecting a different result.
Well, the Democrats are either insane (criminally insane perhaps) or they know exactly what they are doing and have no interest in securing the borders of the United States.
Either way a newly leaked email shows that even they admit they have lost control of the situation at the southern border.
However, what do they expect after images of illegals with freshly printed (gee, I wonder by whom) t-shirts, complete with Biden's logo flooded the media this week: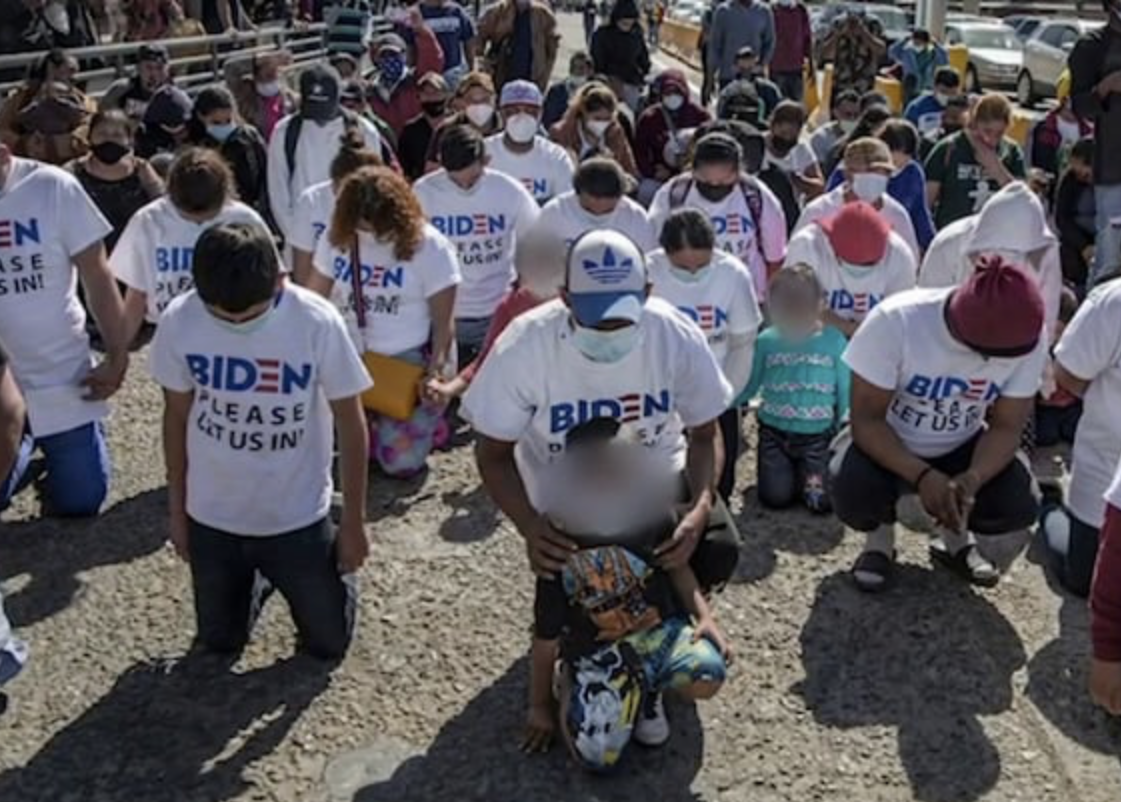 Fox has more about the memo we referenced:
Fox News is reporting:
'Homeland Security Secretary Alejandro Mayorkas on Monday asked DHS staff to volunteer to help deal with what he conceded was an "overwhelming" number of migrants at the border, as the administration scrambles to deal with the escalating crisis.
"Today, I activated the Volunteer Force to support Customs and Border Protection (CBP) as they face a surge in migration along the Southwest Border," Mayorkas said in an email to staff, seen by Fox News.
"You have likely seen the news about the overwhelming numbers of migrants seeking access to this country along the Southwest Border," he said. "President Biden and I are committed to ensuring our Nation has a safe, orderly, and humane immigration system while continuing to balance all of the other critical DHS missions."
Volunteers will be used in a non-law enforcement capacity, with duties including managing property, preparing meals, doing supply runs, prescription medicine runs, housekeeping, and assisting in control rooms. 
Mayorkas noted that the force had been used in 2019 during the border crisis in the spring and summer.
"In 2019, over 900 volunteers deployed to support their CBP colleagues during a similar migration surge," Mayorkas said. "Please consider joining the Volunteer Force to again provide needed humanitarian support along the Southwest Border and relief for our CBP colleagues."'
Just because they have lost control of the situation does not mean that this was not their intention all along.  What did they think would happen when they decided to undo all the policies that kept the border secure?
Border Security Caucus to M… by Fox News
Fox News went on:
'However, the Biden administration has unraveled many of the Trump-era policies — including the Migrant Protection Protocols (MPP) which keep migrants in Mexico for their hearings, and agreements with Northern Triangle countries — and has been struggling with a dramatic surge in migration in recent weeks, particularly in unaccompanied children (UACs) and families.
That crisis has been exacerbated by the Mexican government's refusal to take families with children in some cases and by the COVID-19 pandemic.
As the administration has started releasing families into the interior, it is opening migrant centers both for families and UACs and is considering using a military base in Virginia to house child migrants. Additionally, the Centers for Disease Control and Prevention has told facilities they can open to 100 percent capacity.'
At this rate Texas will be blue by the end of the year.  However, that's only because the Democrats are going to pass HR1 which won't limit the counting of votes to strictly the legal ones, but rather to any and all votes, regardless of whether or not they are from actual Americans.
Welcome to the NWO … America is soon to be a thing of the past, a figment of our memories.  Our children will never know what it was like to be free.  This is down right shameful.